Welcome to Troserch Woodlands Society.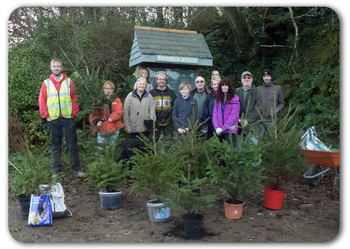 Our society was set up in April 2006 when the woods were put up for sale by its former owners. With a lot of hard work over the following months, and the generous support of a grant by CydCoed, we were finally able to buy this wonderful ancient woodland for our community in October of that year.
Our society now exists to promote and uphold its original aims of protecting the pathways, encouraging the wildlife, and gradually introducing the native species of trees and plants that once thrived here, whilst also making the woods an enjoyable place to visit.
However we rely heavily on our society's membership as without their support the woods would soon become a rubbish dump, full of builder's rubble and discarded tyres, with its tracks and pathways made impassable by brambles and fallen trees - because if we don't manage and care for the woods there is no-one else there to do it.
So please consider helping us in our endeavour by clicking on the Membership Tab above.
Eveybody is welcome to visit and enjoy what Troserch Woods has to offer, but please respect the peace and quiet of the area, its environment and other woodland users.
Thank you.
Check out our facebook page
Our committee meetings are held on the 1st Wed of the month and Working parties, last Sat of the month but check out the facebook page for further details and more events. Everybody welcome.